NATTA XXIII CONVENTION AND BUDDHIST INTERNATIONAL TRAVEL MART (BITM) PREPARATORY EVENT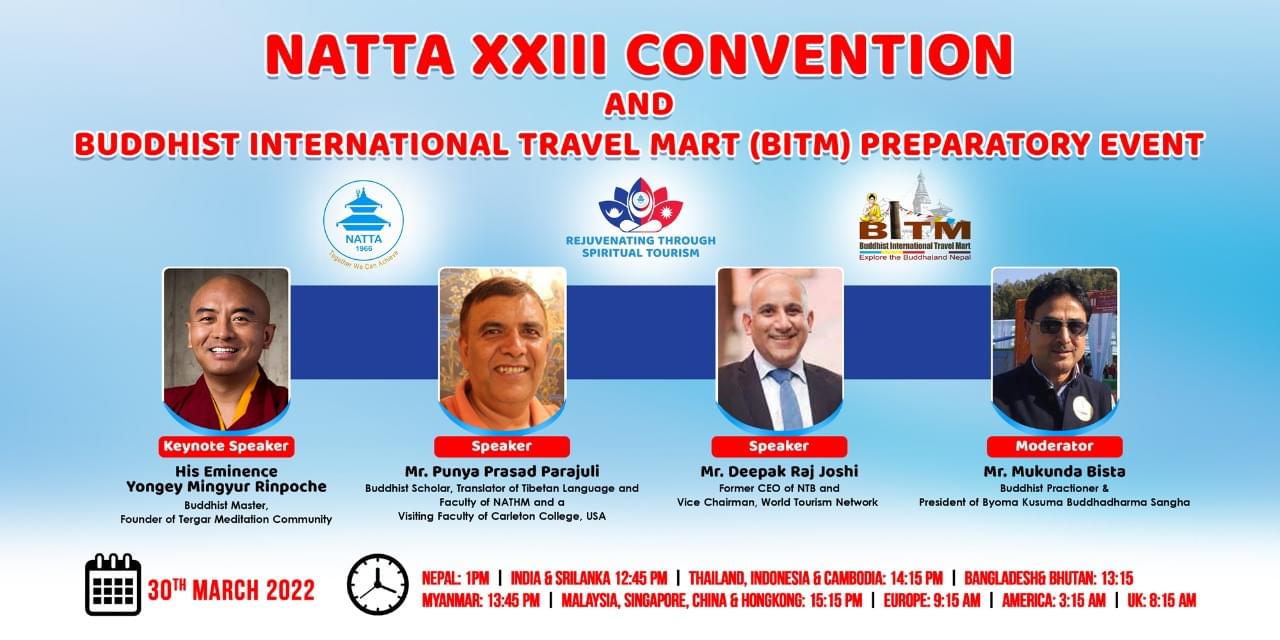 Nepal Association of Tour & Travel Agents (NATTA) is organizing an XXIII Convention and Preparatory Event of Buddhist International Travel Mart (BITM) 2022. This event aims to showcase and publicize Nepal's Buddhist tourism on a global platform.
Important high-level dignitaries will speak about the prospect of the BITM in the Nepalese tourism industry and their respected thoughts on the Revival of tourism post-pandemic. Also, His Eminence Yongey Mingyur Rinpoche, Buddhist Master, Founder of Tergar Meditation Community have kindly consented to speak on the occasion as the Keynote Speaker of the event. The program is being organized both virtually and physically. In this connection, we would like to invite you to the enlightening Buddhism event which is slated for Wednesday, 30th March 2022, 1 pm (NST) with your encouraging participation via Zoom Application.
The event has invited diplomats, a number of renowned national and international personalities, Spiritual Gurus. Colleagues from the travel fraternity, tourism related government and non-government personages, national and international tourism dignitaries, aviation, expatriates and most of the corporate firms including media personalities will be together at the event.
We have also requested the delegates from national and international travel organizations, Government, Local Government, participants from around the world, Buddhist Gurus, Buddhist tourism entrepreneurs, bloggers and media for their participation in the program via Zoom.
Likewise, the theme of the Convention is: Rejuvenating Through Spiritual Tourism. In the first Session, Travel Agent Association of India (TAAI) President, Mrs. Jyoti Mayal is participating in the event as a KeyNote Speaker speaking on Adapting to the New Normal in the Tourism industry after the global impact of COVID with the role of associations on it.
Therefore, equally publicizing and familiarizing the BITM event with its Theme: Gateway to Buddhist Circuits to a wider network of the industry over the world, together with the Convention, NATTA would like to invite you to the event.
The event will be organised online via Zoom Application for international participants. Participation is possible only after the Registration. Therefore, we would like to inform that the participants are requested to register by clicking on the given link as below:
https://zoom.us/meeting/register/tJcvdu-oqzwjEtLAEQV80Jzp8KhJZe7hFx3Z